Irish Brown Soda Bread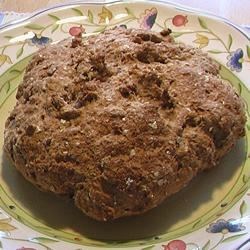 YUMMY!! I am totally lovin' this recipe. I had tried a couple other soda bread recipes from AllRecipes and was really disappointed because they weren't anywhere CLOSE to what I was looking for. This one was!! It's not identical to my brother's recipe, but it is SUPER close, moist and dense with a wonderful hearty flavor. Would be fantastic with a hunk of cheese or a nice stew, and is great with some real butter. My son loved this bread too. I halved the recipe and made one large loaf, rounded and baked in a pie plate. I baked for 30 minutes at the recommended temperature then turned the heat off and let it sit in the oven another 10 minutes (it was already nicely browned, but I wanted to make sure the middle cooked through too). Seems to have worked perfectly! The bread is just fantastic, and easy to throw together.
Irish Brown Soda Bread
By:
Ingredients
4 cups whole wheat flour
1 cup bread flour
1/3 cup rolled oats
1 teaspoon baking soda
1 teaspoon salt
2 1/2 cups buttermilk
Directions
Preheat oven to 425 degrees F. Lightly grease two baking sheets.

In a large bowl, stir together whole wheat flour, white flour, rolled oats, baking soda and salt. Gently mix in the buttermilk until a soft dough is formed. Knead very lightly. Divide dough into 4 pieces; form into rounded flat loaves. Mark each loaf with an 'X' and place on prepared baking sheets.

Bake in preheated oven until golden brown, about 30 to 45 minutes.