5.5 months along ~ 23 weeks!
Wow, time just keeps zipping right by! Everytime I check in here - it surprises me how long its been since my last update!
Things continue to go really well, Miss Munchkin is quite the active little lady and provides me with hours of entertainment at home. I sit on the couch, slouched down with my stomach pushed up a little and "air my tummy" as my husband calls it; with my shirt pulled up so I can watch her antics. I can't wait 'til they're big enough and often enough to film for her parents! I think they'll enjoy seeing that.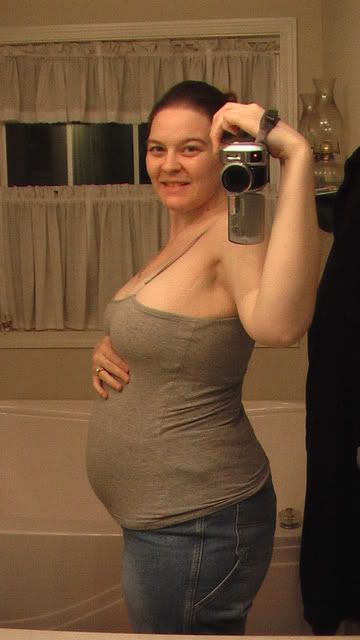 Our next appointment is in 1.5 more weeks, the 24 week fetal echo on April 4th, then another OB appointment the following Tuesday.
I have been craving eggs in the morning a lot lately, though I don't usually get to eat them. I took Kent to IHOP for breakfast on Sunday morning because I was longing for butter drenched pancakes and eggs. It was SO yummy!! Kenneth is gone to North Carolina for Marine Reserve Drill all week, he'll be back late on Thursday.
We listed the house on Wednesday evening last week, so its been crazy trying my best to keep things clean and to keep working on putting things away... the basement is going to be the biggest challenge - Kenneth's military stuff is just everywhere! I've been going through things and listing them on Craigslist and E-Bay; I'm trying to avoid having a yard sale, but there are some large items we really need to get rid of!
I guess that's it for now - I'll be back after the fetal echo with more updates!